The New Business Success Formula: Sustainability = Profitability
65% of companies listed on the Dow 30, EURO STOXX 50, and FTSE 100 have set net-zero commitments. Meanwhile, 36% of companies leverage voluntary carbon offsetting to reduce their environmental footprints in 2021, compared with 25% in 2020.
CEOs have discovered that "sustainability" and "profitability" are synonymous. Not only is sustainability good for the planet, but it's also essential for attracting customers, employees, and investors.
Here's why you should incorporate sustainability into your business strategy: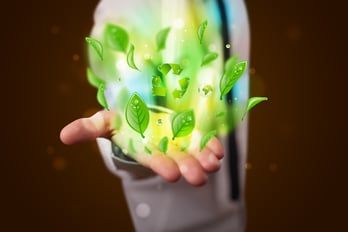 Sustainability Strengthens Brand Image and Attracts Customers
Even though sustainably manufactured products account for 16.1% of the consumer packaged goods (CPG) market, they were responsible for 54.7% of its growth between 2015 and 2019. As consumers become more conscious about their environmental impact, they demand brands to lower their carbon footprints — and they're voting with their wallets.
65% of consumers say they want to buy from purpose-driven brands that advocate sustainability, and 73% are willing to change their consumption habits to lessen their negative impact on the environment.
In particular, Millennials are willing to pay more for products that contain sustainable ingredients or have social responsibility claims. Committing to sustainable practices can help you gain market share by converting sustainability-minded customers.
Meanwhile, the global green technology and sustainability market size is projected to reach $74.64 billion by 2030, growing at a CAGR of 21.9% from 2021 to 2030. The growth of this market encourages innovation, helping companies adapt to market demands and drive revenue growth.
Sustainability and Purpose-Driven Culture Attracts Talent
In today's tight labor market, companies must invest in hiring and retaining talent. The good news is that sustainability isn't only good for sales — it also gives you a competitive advantage in attracting high-quality employees.
In particular, the younger generations want to be part of an organization with a sustainability platform. 44% of millennials and 49% of Gen Zs choose their career and employers based on their ethics, such as social and environmental responsibilities.
89% of executives believe that an organization with a shared purpose will achieve higher employee satisfaction. Meanwhile, 85% of employees say they're more likely to recommend a purpose-driven company to others.
Infusing your company's mission and operations with a sustainability vision can help you attract a motivated and skilled workforce, the foundation of financial success. Not to mention, employees who consider your company more than a place that provides a paycheck are more loyal and productive in the long run.
This is not a time for organizations to rest on their laurels. Creating a modern workspace will be key to the future of work. Integrating strategy with policy, technology with change management, and collaboration with employee engagement—the future of work is now.
Sustainability Drives Innovation and Attracts Investors
Sustainability drives innovation, which not only meets customer demand but also allows companies to adapt to fast-evolving market conditions (e.g., shifts in the supply chain.) It also helps organizations reduce their environmental footprints and stay ahead of regulatory compliance (e.g., emissions standards) that will become more stringent.
Meanwhile, investors are attracted to ESG (environmental, social, and governance) companies because they have lower volatility and are better protected from various risk factors. Return on sustainability investment (ROSI), a metric that evaluates the gains produced by corporate sustainability initiatives, is also gaining more attention.
Additionally, investors (especially the younger generations) want to support organizations that align with their values. For instance, 95% of millennials consider sustainability when making their investment decisions.
A Sustainability Quick Win: Your IT Infrastructure
Most ESG and sustainability initiatives involve material sourcing, labor, supply chain, green energy, etc. These are all well and good and necessary, but it could take years of preparation and orchestration to realize their social and environmental impact.
In the meantime, any company in today's digital age can tackle one low-hanging fruit in its operation to reduce its carbon footprint: its IT infrastructure.
Outdated equipment, from servers and laptops to smartphones and IoT devices, can lower employee productivity, increase energy usage, and hamper innovation that can lead to a more sustainable business model.
But the process of upgrading equipment isn't without its challenges. For example, batteries and plastics must be handled and recycled safely to minimize the environmental impact, while proper procedures must be taken to ensure data security.
You Have the Green Light to Turn E-wastes into Good Causes
CSI's Green4Good™ program offers North American enterprises an effective way to solve end-of-first-life™ IT asset disposition challenges.
Green4Good™ helps corporations turn IT wastes into good causes. We have saved 1,900,000 IT assets from landfills and supported over 225 charities through the proceeds of selling refurbished equipment. Monies earned through this program can be contributed to charities of your choice or used to purchase new equipment. You can also earn carbon credits.
With Green4Good's innovative approach to sustainability, organizations don't have to choose between doing good and doing well.