Top 3 IT Sustainability Business Trends for 2022
Organizations recognize that sustainability and profitability go hand-in-hand. For instance, 65% of companies listed on the Dow 30, EURO STOXX 50, and FTSE 100 have set net-zero commitments in 2021.
Sustainability is not only good for the planet. It's also an essential component of any environmental, social, and governance (ESG) strategy, which can boost your brand image and attract customers, employees, and investors.
Different companies have different sustainability focuses (e.g., raw materials, supply chain emissions,) but there's one low-hanging fruit any organization in today's digital age can tackle right away: their IT infrastructure.
Outdated equipment, from servers and laptops to smartphones and IoT devices, can lower employee productivity, increase energy usage, and hamper innovation that can lead to a more sustainable business model.
Here are some key IT sustainability trends that can help you prioritize your efforts and get the highest return on sustainability investment (ROSI).
1. IT Procurement and Post-Consumer Materials
More organizations have implemented policies on green procurement and established environmentally preferable purchasing programs for electronics.
The good news is that more manufacturers are incorporating post-consumer materials and other sustainability practices into their products, so it's easier than ever to procure equipment with a lower environmental footprint.
In 2007, Dell's Optiplex desktops were the first PCs made with recycled materials. Today, they contain up to 60% recycled content. In 2021, the company engineered its first Latitude PCs with tree-based bioplastic and bio-based rubber. Additionally, it makes 87% of its packaging materials from recycled or renewable content.
Meanwhile, HP created the world's first notebook using EPEAT-certified ocean-bound plastic. The company also made the most sustainable CarbonNeutral-certified home printing system that contains over 30% recycled content by weight of plastic. Moreover, the HP Pavilion range uses ocean-bound plastic, upcycling over 92k bottles annually.
When choosing IT equipment, look for devices that adhere to the EPEAT standard. These products meet environmental performance criteria that address: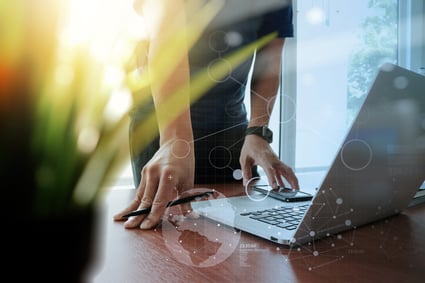 material selection,

greenhouse gas emissions reduction in the supply chain,

design for circularity and

product longevity,

energy conservation,

end-of-life management, and

corporate performance.
Most OEMs provide the carbon information of their devices to show the greenhouse gas emissions associated with the manufacturing process (e.g., the extraction of resources, creation of components) and day-to-day device usage. 
Procurement departments can use this data to select equipment that meets their business needs while maintaining a minimal environmental impact and lowering energy use requirements. For organizations that purchase tens of thousands of devices, this step can dramatically reduce the overall carbon footprint while creating significant cost savings.
2. Data Center Services
From powering servers to cooling facilities, data centers use up a lot of power. The rise of video streaming, AI applications, and virtual conferencing is also driving up energy consumption. In fact, data centers consume nearly 3% of the world's power production.
The good news is that traditional data centers have decreased energy usage by nearly 50% from 2015 to 2021 as more organizations recognize that green data centers are the key to reducing the environmental impact of IT. In one survey, 54% of respondents have a decommissioning and reuse policy for their facilities.
Shorter tech refresh cycles can help companies take advantage of power-usage improvements offered by new equipment. For example, 45% of companies in North America replace their servers every two to three yearsP. In 2020, only 8% of companies kept their servers for more than six years.
However, decommissioning equipment comes with the challenge of increasing e-waste, which can be a major hurdle when moving toward a greener data center. That's why more companies are incorporating recycling into their strategies to facilitate the circular economy (more on that below.)
Meanwhile, modern data centers are moving toward disaggregated servers in which components and resources are divided up into subsystems. They can be updated individually without replacing the entire hardware. This replacement approach helps shorten refresh cycles, improve performance, lower energy usage, reduce CAPEX, and minimize e-waste.
3. A Circular Economy
E-waste is the fastest-growing component of the municipal waste stream in the United States. The circular economy reimagines IT asset management by incorporating sharing economy models, product-as-a-service, product use extension, resource recovery, and more. Here's an example of a closed-loop:
Sourcing:

Use innovative raw materials and products to reduce environmental impact, for example, by moving from traditional mining and extraction to using

post-consumer

or low-carbon materials. 

Designing:

Create products with

durab

ility and reusability in mind by incorporating safe refurbishment and recycling capabilities from the start.  

Manufacturing:

Implement waste and carbon reduction initiatives while repurposing materials, components, and packaging scraps for new devices. 

Usage:

Choose devices with a smaller carbon footprint and higher energy efficiency. Ensure proper maintenance and application to extend the life of a device.

Life extension:

Partner with an

IT asset disposal provider

to refurbish and give second lives to devices by making them available to underserved communities.
Circularity Through Compugen's FutureValue™ Program
Circularity should start at procurement. The FutureValue™ program leverages the circular economy principle to help companies lower upfront costs of new purchases. Businesses can save up to 20% on new equipment when they return the devices at the end of use to ensure that they get a second life.
You Have the Green Light to Create Positive Social Outcomes
Besides discounts on new device purchases, businesses can redirect some of their trade-in revenue towards good causes through CSI's Green4Good™ program for sustainable asset disposition. Companies can inject the trade-in value back into their IT infrastructure or pay it forward to create positive social outcomes.  
With Green4Good™'s innovative approach to sustainability, organizations don't have to choose between doing good and doing well.
Replay our recent Webinar: The State of IT Sustainability - Business Trends 2022 to learn how to incorporate the latest sustainability trends.