More than 50% of people believe that technology will determine workplace changes in the next 5-10 years, and it is absolutely true. Managed Workspaces are the new norm with automation and workflows at the forefront of this space.
Are you a traditional company wondering how to achieve this upgrade and imbibe a modern Workspace? Well, you are in luck because that's exactly why we are here. Let's first understand what a modern workspace is.
What is a Modern Workspace for Business?
Essentially, a modern workspace is an operational setup that has been specifically designed to meet the technological and physical needs of your business and your employees. Implementing it means a company-wide transformation from class communication to complete digitalization. The end goal of modern workspace for business is to empower employees while streamlining business operations alongside.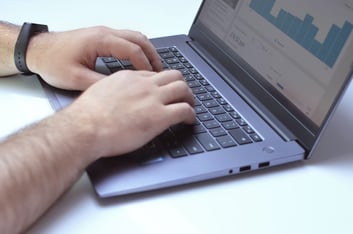 Why Microsoft Office 365 is the Ultimate Solution?
There are many ways to develop a modern workspace for business, but Microsoft Office 365 is considered the most wanted route. After all, Microsoft Office 365 is currently controlling 47.5% of the office productivity software market and in terms of monthly active users, Office 365 has around 258 million in the year 2020 alone!
The company has stayed in the limelight, especially in the tech industry due to its innovation and futuristic approach.
From centralization to cost efficiency, and from accessibility to seamless communication — Office 365 offers it all.
Benefits of Office 365 for a Modern Workspace
Let's break it down to the top 4 benefits Office 365 is offering that lay the foundation for a dream modern workspace:
Facilitating Automation



Microsoft Office comes with the Microsoft Power Automate, which implements RPA (Robotic Process Automation) and digitalization across your business. Not only this, it helps your business create automated workflows between services and applications to synchronize files as well as collect data.
Through automation, Microsoft is boosting productivity and giving time for employees to focus more on innovation.
Promoting Collaboration
Asset and document management has always been a hectic responsibility for companies. Office 365 is the ultimate tool for modern collaborative workspace because it has the perfect solution document collaboration platform: Sharepoint! With Sharepoint, your company is assured that all data/ information is managed correctly while remaining accessible to all relevant shareholders.
If you opt for the Office 365 setup, Sharepoint can also be integrated with Word, Excel, and Powerpoint. Thus, all data can be edited, created, or shared across multiple departments without obstruction.
Managing Documents
Document management with Office 365 becomes as easy as pie. Office 365's suite of products such as OneDrive, Microsoft Dynamics, and Sharepoint integrates seamlessly across multiple applications — including cloud-based tools. You can use these products to store, edit, collaborate or even share documents seamlessly across different platforms
Providing High Security
The most crucial problem of digital data is its security. So, how can you make sure that your new modern collaborative workplace is secure? You don't have to worry about that with Microsoft 365. Microsoft is a leader in the 5 Gartner magic quadrants which confirms that this company offers impeccable data security.
From identity management to threat protection, and from cloud security to information protection, Microsoft's comprehensive products deliver it all. Most importantly, these products are integrated with Microsoft Intelligent Security Graph, which monitors and safeguards your assets across the digital world.
Final Verdict: The Future Belongs to Microsoft Office 365
A Modern workspace for business has become a necessity in this era. With built-in AI capabilities and over a hundred integrated applications, Microsoft Office 365 is everything you need to transform from a classic office to a modern workspace for business.
There is security, automation, efficiency, accuracy, and pretty much everything a successful enterprise of this day needs in its arsenal. That's the reason over a million companies worldwide are already a part of the Office 365 family.
The Right IT Partner for Managed Modern Workspace
Implementing a modern workplace for your business is crucial to stay ahead of the competition. But, as your business grows, it can become challenging to transform your enterprise into a modern workspace while also focusing on scalability and core business values. Hence, at this point, opting for a managed service provider can be an excellent option.
Partnering with Compugen means outsourcing your managed services to the experts who have implemented modern workplaces for some of the biggest tech companies. Amongst the modern collaborative workspace technology solutions already under Compugen's belt is the Office 365 Suite.
While you scale your business according to your core values and future vision, Compugen helps bring organizational success and attain complete digital transformation, for your enterprise, through the power of Microsoft 365.
Schedule a managed services consultation with the experts at Compugen and discuss how to get started on your Microsoft Office integrations.