Here on this side of the pandemic, we have perhaps made it through the biggest shock waves but are still learning to ebb and flow with continuous changes and iterations. It's a new normal. And as we are all familiar, our workplaces have seen some of the biggest changes. 
Not all of them bad, either. In PwC's US Remote Work Survey (January 2021), 83% of companies reported that the shift to remote work has been successful. 79% of employees emphasized the importance of flexibility to manage family alongside with work. More than half of employees reported a desire to work remotely at least three days a week. And in the same survey, 87% of employees said the office is important for collaborating with team members and building relationships—their top-rated needs for the office.  
Here's what else we know: a survey conducted by Salesforce reveals that a lack of collaboration resulted in workplace failures for 86% of employees and executives. Companies with highly engaged employees have been found to outperform competitors by 147% (Gallup State of the American Workforce). And in Gusto's Community at Work survey, they found that the top reason employees stay at a company is working with a great team—with 54% reporting staying longer due to a prevailing sense of community and team spirt, and, on the flip side, 52% reported either leaving a job or strongly considering due to a lack of community feeling.
What do all these signals mean? In 2022 and beyond, we have to be doubly focused on how we engage our employees, investing in them in ways that feel really impactful to them. How are we engaging them and demonstrating our investment in them, so they feel empowered to do their best work—individually and as a team?
A modern workspace is fluid, flexible, and hybrid. It doesn't abandon a thoughtfully-designed physical office, or workplace, but it does move beyond physical boundaries. It supports employees wherever and however they do their best work, and it sets up multiple opportunities for frictionless collaboration, community-building, and teamwork.  
Luckily, all of these benefits are achievable through the twin tools of HR and technology—both of which can codify a collaborative culture where employees feel they're part of something larger than themselves and support this freedom of thought, creativity, and collaboration.
Why Cultivating Engagement + Wellbeing Matters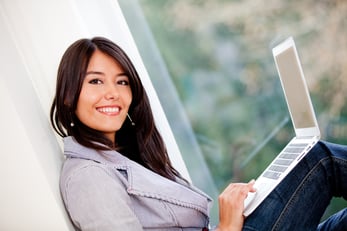 Collectively right now, employees are feeling stressed, burnt-out, and disengaged. Gallup's 2022 State of the Workplace Study found that while global engagement and wellbeing may be stable now, they're also low: only 21% of employees reported feeling engaged at work and just 33% are thriving in their overall wellbeing. Most reported that they would say they don't find their work meaningful, don't think their lives are going well, or don't feel hopeful about the future.
The pandemic not only substantially changed the dynamics of work, but for many, the spike in stress and the difficulties of managing pandemic life prompted a breaking point. For others, it prompted a reexamination of their priorities in life, as brushes with mortality often do. Still for others who felt burnt out during the pandemic, they may have never felt this burnout was addressed by their employer.
And stress is not only still lingering, but at an all-time high — even higher than in 2020 at the height of the pandemic — whether it's work-related or life-related, with working women in American and Canada among the most stressed employees globally.
These feedback signals are crucial for us to pay attention to as business leaders right now.
It's important to see that wellbeing and engagement matter for the simple fact that we're all human and we all matter. Just like you, your employees want to be able to find meaning in their work, to feel that their contributions matter, to be able to find hope, and to feel their lives are at least manageable rather than overwhelming most of the time.
As Gallup points out, disengagement affects not just an employee in their work performance, but it affects their overall well-being. Being disengaged at work doesn't feel great. And we are not separate people at work and outside of it: our work experiences affect our lives outside of work, and our overall well-being affects us in our work.
As we learned above, disengaged employees are more likely to leave companies. Disengaged and unsupported teams are more likely to have collaboration fails. Low employee well-being and engagement hurts us all, and it's also costly, with low engagement alone costing the global economy $7.8 trillion (Gallup).
We are whole people. Gallup has it right: to engage our employees, we must learn to care about them as whole people and consider how we support their wellbeing, both at work and outside of it. When we invest in them, they'll invest in us and in their work in return.
Enacting Supportive Policy to Cultivate a Modern Workspace
When you look at your HR approach, how do you listen to your employee's needs and show up for them in terms of policies and culture that support and engage them?
How can we, as leaders, ensure our employees know they have a real voice in the company?
Because our HR policies are a really impactful tool to guide our teams and culture and help employees really feel how we value them.
Here at CSI, that looks like a commitment to soliciting feedback throughout the entire tenure of our team members' journeys beyond just day or week one. It looks like mentorship programs like our Buddy Program, where current team members get paired with new hires to help them integrate into the organization — which also helps expose our existing team members to new skills and perspectives.
Here are some more policy and programming ideas that can be both low-cost and high-impact:
Grassroots programs that engage your employees on specific topics relevant to your company's purpose and values.

Authentic inclusion and diversity initiatives

Ongoing opportunities for employees to grow, build new knowledge and skills and prosper in their careers.
It also looks like leaders acknowledging the collective stress we have all been through the past few years and are still experiencing. Acknowledging the tremendous resilience of our teams.
And then ask ourselves, how much of the pressure for employees to keep long hours is about highly caring team members learning to set boundaries for an honest day of effort?
These highly engaged employees may be the next to experience burnout, frustration, and disengagement after, if not properly supported.
So knowing this and knowing that our employees' well-being in their lives outside their work affects them in their jobs, should companies create coaching programs that help staff learn to disconnect?
How can we create and foster the space needed in our everyday routines to prioritize personal interests, hobbies, family, and friends — in addition to meeting the demands of our job?
It also means asking your team members how and when they work best, and what their preferences for remote and in-person work is, then showing them your support by investing in the hybrid work policies and technology tools to empower them to deliver their best work, in the way they work best.
The next step in investing in and empowering your employees is taking a look at your technology and examining how the tools you provide your teams help them work best.
How we set up our employees' workspaces sends a message: that we know it matters that they have the right tools to do their job well, in whatever place and manner best fits their unique needs.
It matters where you work. It matters the hardware that you are given to do your job, the software that you are able to use. Ask yourself questions like:

Does your technology support fluid and hybrid remote/in-person work?

Can your workspaces follow employees where they work, whether at home, at a coffee shop, at the office, or at the beach?

Can your workspaces support your employee's transition between different areas at the office

Can they support the ability to move in and out of different types of work—from quiet document work to collaborative idea-building

Can it support different employees' different work and learning styles and needs? Two people working on the same problem will take two different approaches: one may do their best on a spreadsheet, while the other may do their best on a whiteboard. They can achieve the same thing but in different ways. 
A modern workspace supports their ability to continue working throughout these conditions, places, and needs. Seeing technology as the foundation for this ability, you can see how modern tooling can really strip down the barriers. 

This also applies to facilitating seamless collaboration. 
True collaboration means more than physical proximity: it's combining the skill sets of individual team members in a way that complements each other and makes life simpler for everyone involved.
This means that your team needs the tools that make it easy to brainstorm ideas collectively, discuss problems, and come up with solutions, which leads to better productivity, higher efficiency, and a greater sense of camaraderie.
And this is a key benefit of a modern workspace. Beyond supporting each individual's ability to shine, it also facilitates fluid, omnichannel collaboration and makes alignment easier.
Alignment can't be undervalued: a recent survey by McKinsey revealed that 97% of all employees and executives believe the outcome of the goal or project had a negative impact due to lack of alignment. The ideology of collaboration needs to shift from "individuals working as a group" to "a group of individuals working as one" for collaborative workspaces to yield the best possible results.
How Can Your Business Cultivate a Modern Workspace?

At CSI, we partner with companies to facilitate the outcome of the modern workspace: the engaged employees, the unified communities, and ultimately, the ability for the company to serve its mission and succeed at its highest level.
We help you consider the breadth of the tools available and see how you can get the most benefits out of these tools. A cohesive strategy and clear integration roadmap is the key to achieving the desired results. This means we:

Provides tools sets and makes your chosen platforms work together 

Make these platforms secure as possible 

Offer unified end-point management – that helps you be more productive 

Navigates changes in in-person/hybrid/remote work

Enable you to work seamlessly and securely in a manner that's scalable 
This includes:
1. IT Software
Being able to take ideas into data and then have data flow through to work processes is the software-enabled modern workspace. It's getting the best out of people, whoever they are and however they want to work and be able to harness their contributions in a way that impacts the business that they work for. 

Plus digital communication tools like audio and video conferencing, social media, and mobile apps make workplace collaboration much easier than ever before. Employees can access shared files, react to changes in real-time, and work towards a common goal, no matter where they happen to be working from.

2. IT Hardware
Companies that want their employees to be able to work from home and the office (and beyond) need a supply chain to get people the tools that they need in the locations that they are working from. 

For example, how easy it for you currently to onboard someone when they are a full-time remote employee? Or even, a partially remote employee?

And what types of hardware technology can be implemented in your physical workspaces, to help facilitate the kind of highly-productive individual work and collaboration discussed above?
3. Ongoing IT Support
Being good at Core IT operations, we can augment and help you execute:
Service Desk 

Deployment 

Dispatch technicians 

End of life asset recovery 

Planning design and implantation of complex technology solutions 
Where you are in your modern workspace is unique to you, your company, and your teams. We don't try to sell you a service or a solution. We evaluate the business scenario and help walk you through how to apply the technology to best help your business operate at its highest level. 

Ready to start seeing the impact when you engage and empower your teams? Learn more about how to create a collaborative Modern Workspace with Compugen.