Compugen is included in The Houston Business Journal's annual listing of the fastest-growing private companies for the first time.
Compugen Systems Inc. (CSI) an IT + service delivery company lands #59 in the Top 100 fastest-growing private companies in Houston for 2021.
Companies on the list are all for-profit organizations headquartered in the Houston, TX area. To make the list, they must also have at least five full fiscal years in business with at least $1 million in revenue in the latest fiscal year. The Houston Business Journal then ranks each company on the list by their revenue growth from 2018 to 2020. Compugen nearly doubled its revenue growth in that time. CSI, an affiliate of Compugen Inc out of Canada, reported $4M in U.S. revenue for 2020 across its value-based service portfolio which includes modern workspace, hybrid IT, networking, and security solutions.
Terry Mirza, President of CSI commented, "CSI is so honored to make the Houston Top 100 list with so many fellow Houston Businesses. We take pride in our Houston roots and will continue to bring technology innovation to the world around us, by starting right here in our local community."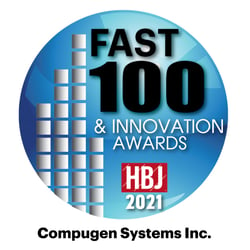 The Houston Business Journal creates this list every year. Announcing the list of 100 finalists in alphabetical order in July. They reveal the final rankings at the Fast 100 and Innovation Awards in Houston in September.
About Houston Business Journal
Houston Business Journal is a key provider of local business news and market intelligence for Houston, Texas. Providing local business owners, the information they need to help grow their businesses.
About Compugen Systems Inc.
Compugen Systems, Inc. (CSI,) an affiliate of Compugen Inc., is an IT service delivery company that focuses on enabling your business outcomes. By coupling innovative technology-based services in the Modern Workspace and Hybrid IT with our uniquely crafted managed, professional, and field services; we're redefining the customer experience. We believe that every day we have, is another opportunity to innovate, inspire, and impact our world for the better. Join us at www.compugen.us