Today's consumers vote with their wallets. They want to do business with companies and buy from brands that align with their values and stand for a good cause.
In fact, a study found that people prefer to purchase from companies that are responsible (86%), caring (85%), advocate for issues (81%), protect the environment (79%), and give back to social causes (73%.) Meanwhile, organizations need to consistently upgrade their IT assets to stay competitive and deliver the best customer experience. Yet, improper disposal of old devices has substantial environmental impacts, which could undo what your company has accomplished in its environmental, social, and governance (ESG) initiatives.
So, how can you do well while doing good by using modern technologies, minimizing your environmental impact, and contributing to social causes?
Compugen x Green4Good: IT Asset Lifecycle Management For a Good Cause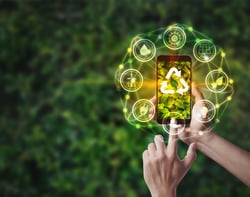 Like First West Credit Union, many organizations have stockrooms filled with old, broken computer equipment. Dumping the devices into landfills is environmentally irresponsible. Not to mention, disposing of equipment containing sensitive business information without a proper procedure is a data security risk and liability issue.
Although the company used to recycle or donate some of its assets, the manual process was time-consuming and labor-intensive. Wiping data from these devices further adds to the lengthy procedure, making it challenging for the company to sustain the effort.
Meanwhile, enterprises such as BC Hydro often need to conduct organization-wide technology upgrades that necessitate the disposal of a large number of IT assets across locations throughout the country.
The lengthy and labor-intensive process of collecting the equipment, destroying residual information to ensure data security, triaging the devices based on their residual value, and tracking every piece of equipment through the disposal process is burdensome.
To provide comprehensive IT asset lifecycle management services while delivering social, economic, and environmental benefits, we partner with Green4Good so our clients can safely dispose of their IT assets as they achieve their charitable goals.
What's Green4Good + How Does It Work?
Green4Good is a Canadian non-profit organization that helps companies securely and responsibly dispose of IT assets. It also sells refurbished equipment and the proceeds are used to support local charities, reduce environmental waste, and promote good corporate citizenship.
The Green4Good program helps Canadian enterprises effectively solve end-of-first-life IT asset disposition challenges by refurbishing the devices for sale. Then, companies can choose to donate the proceeds to charities, purchase new equipment, or fund various social programs.
Thanks to the program, many Canadian companies can ensure data security and protect the environment. Compugen conducts an audit of the data-bearing assets to ensure security while Green4Good adheres to U.S. Department of Defense data-erasure standards when sanitizing all disk drives.
100% of the hardware collected by Green4Good is recycled, so nothing goes to landfills. Green4Good's recycling process is performed by ISO 9001:2015-certified specialty partners equipped to handle various aspects of disassembly, disposal, and destruction.
Compugen works with Green4Good to pick up, evaluate, and track the equipment throughout the recycling process. All the computers are refurbished by our experienced technicians and pass a rigorous testing process before they are sold to Green4Good's customers.
A Win-Win-Win Strategy to IT Asset Disposition
Thanks to Green4Good, First West Credit Union now has a cost-efficient IT asset disposition process. The company uses the proceeds from the resale of decommissioned IT assets to offset its disposition costs and meet its charitable goals.
"Green4Good offers an ethical way to dispose of old IT equipment, which aligns well with our desire to help the environment and our communities."
Satvir Thandi, VP of IT, Operations & Enterprise Solutions at First West Credit Union
Green4Good also helped BC Hydro dispose of its decommissioned IT assets securely and efficiently to support its ongoing hardware refresh cycles. The firm was able to reassign the internal group that handled IT asset disposition to focus on strategic tasks. It also reduced the disposition costs significantly by reselling refurbished assets.
"The process is working well. The Compugen people are good to work with. It's a pretty straightforward service and the simple process minimized the need for my involvement, which is exactly why one outsources such a service."
Sophia Tham, Manager, IT Security, and Infrastructure, Technology, and Security Department at BC Hydro
Green4Good's program helps our customers reduce operating costs, contribute to charitable causes, and reduce the environmental impact of their IT asset lifecycle management processes.
Integrate Sustainability + Environmental Initiatives With Business Operations
Here at Compugen, we believe technology can enable us to do great things and create a positive, rippling impact in the world. We measure our success by how we help our clients to achieve purpose, impact, and growth.
Our partnership with Green4Good has helped many companies reduce the cost associated with end-of-life IT asset disposal, which is a critical aspect of IT asset lifecycle management.
The collaboration is also a key component of our Device-as-a-Service (DaaS) offering, which takes care of everything from device procurement and maintenance to upgrade and disposal. It enables our clients to optimize their IT spending and access the latest devices they need while ensuring that decommissioned devices will get a second life benefiting others instead of ending up in landfills.
Download this resource sheet to see how you can do well while doing good by integrating sustainability into IT asset management.