Today's consumers vote with their wallets. They want to do business with companies and buy from brands that align with their values and stand for a good cause. For example, 83% of consumers consider a brand's sustainability when considering a purchase.
Moreover, a study found that people prefer to purchase from companies that are responsible (86%), caring (85%), advocate for issues (81%), protect the environment (79%), and give back to social causes (73%.)
Meanwhile, organizations need to consistently upgrade their IT assets to stay competitive and deliver the best customer experience. Yet, improper disposal of old devices has substantial environmental impacts, which could undo what your company has accomplished in its environmental, social, and governance (ESG) initiatives.
Today, E-waste is the fastest growing waste stream in the world. A record 53.6 million metric tons of e-waste were generated worldwide in 2019. Meanwhile, it takes 1.5 tons of water, 48 pounds of chemicals, and over 500 pounds of fossil fuel to fabricate a single monitor and desktop.
So, how can you use modern technologies, while minimizing your environmental impact, and contributing to social causes?
Our Green4Good program provides comprehensive IT asset lifecycle management services while delivering social, economic, and environmental benefits. It helps our clients safely dispose of their IT assets as they achieve their sustainability goals.
Compugen x Green4Good: Technology Refresh Leads to a Triple Win with Social, Economic, and Environmental Benefits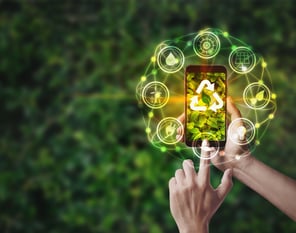 Like many large enterprises undergoing digital transformation, BMO Harris Bank shifted to newer and higher-performance hardware and software. Along with the benefits of technology refreshes also comes a new challenge: what to do with the existing equipment?
Instead of simply recycling their old technology, BMO Harris participated in Compugen's CarbonBank™ program to take their environmental stewardship and corporate responsibility a few steps further.
We have helped BMO Harris process over 100,000 IT assets to date while raising several hundred thousand dollars for charity. The program saved the bank millions of dollars through cost avoidance and generated 4,300 carbon credits through the resale of its End-of-First-Life™ technology.
BMO Harris isn't alone in upping their ESG game. More than 75 businesses including eBay, Exelon, Gap, Levi's, Nike, Mars Incorporated, Microsoft, PepsiCo, Tesla, and others, have been advocating for meaningful climate legislation, including a price on carbon.
What's Green4Good + How Does It Work?
Green4Good is an award-winning program run by Compugen Finance, a B Corp, certified by the nonprofit B Lab, to meet rigorous standards of social and environmental performance, accountability, and transparency.
The program helps companies securely and responsibly dispose of IT assets. It also sells refurbished equipment and the proceeds are used to support local charities, reduce environmental waste, and promote good corporate citizenship.
Enterprises can effectively solve End-of-First-Life™ IT asset disposition challenges by refurbishing the devices for sale. Then, companies can choose to donate the proceeds to charities, purchase new equipment, or fund various social programs.
Thanks to the program, organizations can ensure data security while protecting the environment. Compugen conducts an audit of the data-bearing assets to ensure security and adheres to U.S. Department of Defense data-erasure standards when sanitizing all disk drives.
100% of the hardware collected by Green4Good is recycled, so nothing goes to landfills. Green4Good's recycling process is performed by ISO 9001:2015-certified specialty partners equipped to handle various aspects of disassembly, disposal, and destruction.
Offering true IT lifecycle management; Compugen picks up, evaluates, and tracks the equipment throughout the recycling process. All the computers are refurbished by our experienced technicians and pass a rigorous testing process before they are sold to Green4Good's customers.
IT lifecycle Management + Asset Disposition= a Win Win Strategy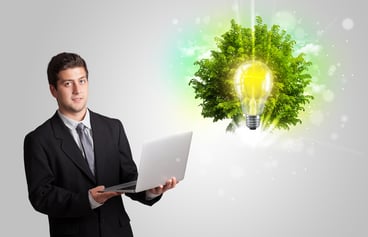 Thanks to Green4Good, organizations across the US now have a cost-efficient IT asset disposition process. Many also use the proceeds from the resale of decommissioned IT assets to offset their disposition costs and meet charitable goals.
Partnering with Green4Good and taking advantage of our FutureValue Program, you can:
Solve business requirements around managing end-of-life technology in the most cost-effective, secure, and environmentally friendly way.

Generate cashback and carbon credits when trading in your End-of-First-Life™ Technology.

Use the money generated to pay for new IT services and hardware. You can also donate the proceeds to positively impact the community.

Use the carbon credits to achieve your corporate goals on carbon neutrality.

Pluck the "low hanging fruit" for sustainability outcomes, which you can include in sustainability reporting to customers, employees, and shareholders.
Green4Good's program helps our customers reduce operating costs, contribute to charitable causes, and reduce the environmental impact of their IT asset lifecycle management processes.
Integrate Sustainability + Environmental Initiatives with Business Operations
Here at Compugen, we believe technology can enable us to do great things and create positive, rippling impacts on the world around us. We measure our success by how we help our clients to achieve purpose, impact, and growth.
Green4Good has helped many companies reduce the cost associated with end-of-life IT asset disposal, a critical aspect of IT asset lifecycle management. Redefining the customer experience means not only continuing to enable technology to help our customers when you need it; but also, ensuring we are responsible with the same technology when you don't need it any longer.
This program is also a key component of our Device-as-a-Service (DaaS) offering, which takes care of everything from device procurement and maintenance to upgrade and disposal. It enables our clients to optimize their IT spending and access the latest devices you need while ensuring that decommissioned devices will get a second life benefiting others instead of ending up in landfills.
Download this resource sheet to see how you can do well while doing good by integrating sustainability into IT asset management.