Data is corporations' lifeblood in today's digital world. With security attacks increasing 31% between 2020 and 2021 and businesses falling victim to ransomware attacks every 11 seconds, cybersecurity is critical to business survival.
It's not a matter of if but when any company becomes a target—even if you have a robust cybersecurity strategy that checks all the boxes. That's why more organizations purchase cyber insurance for an extra layer of protection. But insurers are tightening their requirements due to growing and unpredictable risks—companies with a poor security posture may not be able to get a policy.
Here's what you need to know about cyber insurance: Find out what it is, why you need it, and how to improve your security posture to get the best policy at a lower cost.
What Is Cyber Insurance?
Also called cybersecurity insurance or cybersecurity liability insurance, cyber insurance is a contract that an individual or company can purchase to help mitigate the financial risks associated with conducting business and transactions online.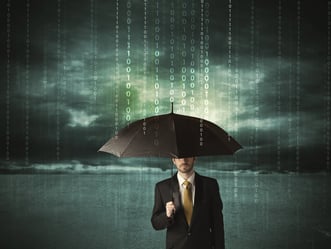 By paying a monthly or quarterly premium, the insurance provider will take on some of the financial costs in the event that the policyholder suffers an attack. These insurance plans cover various consequences arising from cyberattacks. Some may even include hardware damages or business income loss.
The Importance of Cyber Insurance
The average cost of a cyber-attack has reached $1.1 million. The right cyber insurance gives you peace of mind by knowing that you won't incur devastating losses if cybercriminals succeed at infiltrating your network and stealing valuable data.
A cyber insurance policy can protect you against the financial impact of lost data and devices. It covers the costs of cyber forensics, which helps determine the extent of a breach and identify what information has been compromised.
It can help you cover the expenses associated with sending out breach notifications to customers and other post-breach responses (e.g., containment, eradication, and recovery processes,) which average $1.14 million.
A comprehensive cyber insurance policy can also help you cover the costs of remediation actions associated with a data breach and the resulting business disruptions, such as security fixes, identity theft protection for affected individuals, and revenue loss.
If you're in a highly-regulated industry (e.g., healthcare, finance,) cyber insurance can help protect you against financial losses associated with hefty fines and penalties. Some also provide legal assistance to help you navigate the complex regulatory landscape.
In short, cyber insurance coverage could mean the difference between staying in business and shuttering your door after an attack.
How To Prepare Your Business For Cyber Insurance
Getting the right coverage can be challenging for some companies. Cyber insurance rates increased by 89% in Q4 2021 due to the dynamic and fast-evolving nature of the threat landscape, and most insurers increasingly emphasize risk management when determining coverages and premiums.
Your insurer will analyze your cybersecurity posture to determine your rate and coverage. A robust data security strategy and ongoing enforcement of your policy are the keys to getting better coverage at a lower price. In fact, without the appropriate security policies and solutions, you may not qualify for cyber insurance.
Implementing these critical controls can help you receive or maintain a cyber insurance policy:
An endpoint detection and response (EDR) platform

Multi-factor authentication (MFA) and access control protocols

Managed threat response (MTR) supported by a security operations center (SOC)

Data security policy and management processes

A backup and recovery plan and an incident response plan

Employee onboarding, ongoing training, and offboarding processes
Cover All Your Bases With the Right Cybersecurity Partner
Now you know how to improve your security posture and cyber insurance readiness. But do you have the internal expertise and resources to implement the strategies and training and set a solid foundation for getting the right cyber insurance coverage?
Cybersecurity is a multi-faceted discipline. Even companies with a large IT team find it challenging to cover everything internally. Working with the right cybersecurity partner can help you access the latest best practices, strategies, expertise, and technologies without the high cost of hiring an in-house team.
So how to find the right partner for your cybersecurity needs?
Your partner should have the knowledge, experience, and resources to help you design and implement an effective and robust risk management strategy. It should provide full services to cover all the security risks that can threaten your business. It should also target strategic areas to improve your cybersecurity posture to help you get the cyber insurance coverage you need.
To address all the pieces essential for keeping your systems, networks, applications, and data secure, you need a partner who has a proven approach to strengthen your defense systematically.
At CSI, we help our clients improve their cybersecurity posture with our trusted Cybersecurity Lifecycle Framework (CLF). Our layered security solution is crafted from internationally recognized standards and security frameworks to support the implementation of cybersecurity strategies.
CLF guides companies through the continuous process of detecting, preventing, analyzing, and responding to information security threats. Our professional and managed service capabilities help organizations maintain business continuity, ensure regulatory compliance, and bolster in-house security expertise. We also target critical areas that cyber insurance providers evaluate to help you get the right coverage at the lowest cost possible.
Learn more about our security services and get in touch to see how we can help.