Advantages of Adopting a Cloud-Based Data Center
The amount of data businesses generate is huge. Naturally, storing this data in-house is expensive, not to mention, inefficient. Therefore, cloud-based data centers are something companies are largely investing in and 82% of them confirm that switching to the cloud saves costs and boosts efficiency.
In this article, we'll understand why exactly cloud-based data centers have become a necessity.
Top 5 Advantages of Adopting a Cloud-Based Data Center
Cloud computing is the concept of an online storage space which is ubiquitous, scalable, and secure. Cloud service providers to manage and run the hardware to store data for the company - often via help of third parties. Thus, the companies work within the virtual infrastructure to manage their data.
Right now, cloud data centers process 94% of all workloads in the United States. This comes as no surprise as cloud data centers have significant advantages over maintaining your own hardware set-up. Some of them are as follows: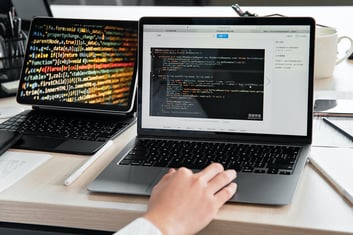 Quick, Easy Deployment:

Using a cloud-based data center means your company will be able to spin up new cloud computing instances in seconds. Hence, agility and speed of software development increases exponentially. Furthermore, it becomes easier to test new applications without depending on the on-site hardware limitations as the data is all being processed via the cloud data center.
Automated Updates and Integration:
Cloud data centers primarily use a SaaS (Software-as-a-Service) model for their clients. This model comes with the benefit of regular software and security updates free of cost. Hence, the cloud data center of your choice takes full responsibility of keeping your hardware updated and secure.
Cost Efficiency and Productivity:
One of the biggest cloud data center advantages is that the cloud infrastructure cuts down hardware purchase and maintenance costs. An average enterprise data center consumes over 100x the power of a large commercial office building while a cloud data center drops this additional cost to 0.
On top of that, your business doesn't need to invest in the upfront cost of building out a large data center to grow your business. Nor do you need a large IT team to handle the data center operations. Not only are all operations managed by the cloud service provider, the downtime problem is also fixed by them.
Scalability:
When considering cloud computing vs data center, the biggest advantage offered by cloud based data centers is its scalability. Whether you have 1000+ employees or are a solopreneur, data centers can provide you the customized solution you need to scale your business. Based on your business requirements, you can also adjust the plans they offer you accordingly.
For any business with fluctuating or growing bandwidth demands, cloud-based solutions are best because the companies are freed from physical infrastructure investments. Moreover, cloud solutions minimize the risks associated with maintenance and in-house operations.
Unlimited Storage:
Unlike enterprise data centers, the cloud-based version comes with unlimited storage capacity which is available at excellent frequency and accessibility. The cost of storage definitely goes up according to the level of performance required but it is still way less than the cost of maintaining an in-house server.
Outsourcing the Data Center Management to Compugen
I know you must be wondering why a cloud-service provider outsource its managed services to a third-party, right? It's because we do it better!
With Compugen, any cloud service provider is actually 'upsourcing' their managed services to a team of technical experts who are available 24/7. Hence the clients can focus on company transformation while we work as the catalyst to help them reach their business goals.
On top of that, we heighten security and keep an extra pair of eyes on your client's data network so as to ensure they are safe from hacking.
Final Words: Is a Cloud-Based Data Center Really THAT Great?
As of now, about ⅓ of the data passes through cloud every day…and the figures are growing by the minute. It is no surprise that cloud data centers are being adopted fast. From cost efficiency to scalability, and from automated updates to continuous integration, they have everything to offer.
If you are an enterprise still relying on your data center, it is a big mistake costing you double every month! If you wish to stay in the competition and gain a competitive edge, it is time to get into the cloud data center game.