New workspace environments are key.
Evolving to new workspace environments is key to a successful future. The ever-changing workspace requires organizations to constantly re-evaluate outdated traditions and standards so that they will recruit top-tier talent.
Creating a modern workspace environment has never been more relevant. It's important for businesses to transition to a workplace that focuses on innovation and meeting employee preferences.
What is a Modern Workspace Environment?
A modern workspace environment is one with a blended workforce – one where employees work onsite, remotely, or a hybrid of the two. This type of environment celebrates fluidity and flexibility within the workforce.
The notion of work-life balance is not a distant ideology but one that is encouraged. Rather than being forced to work in the confines of an office building from 9 a.m. to 5 p.m., Monday through Friday, a modern workspace environment believes employees should work where and when they are most productive.
Organizations have found that the traditional, rigid style of thinking lowered efficiency and employee morale. It certainly could not keep up with recent challenges where a majority of America's workforce was sent to work from home due to health and safety concerns.
As a result, many employers are seeing the benefits and ease of a modern workspace environment. In fact, a recent study shows that 77% of employees believe that flexible working encourages increased productivity.
Although a modern workspace environment is important, it is not always an easy transition or choice to make. To help, here are four benefits of an innovative workplace to explain why this is the right decision.
Benefit #1: Improved Employee Satisfaction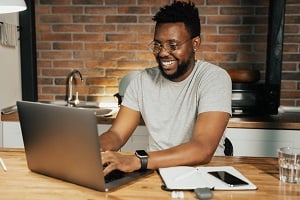 It is crucial for organizations to invest in their greatest asset: employees. In 2020, more than a third of workers are actively or casually searching for a new job. As a result, U.S. businesses spend $2.9M per day searching for new employees.
Improving employee retention rates means more than just increasing their salaries, but instead creating a workplace environment where they are most comfortable. Employee expectations are rising, and employers must acknowledge their changing needs. Prioritizing employee satisfaction means giving them the freedom to work wherever they are most productive – not just inside an office.
By encouraging trust in the workplace, organizations will experience increased productivity and morale among their employees. Better yet, employers will have a better chance at recruiting and keeping top-tier talent.
Benefit #2: Collaborate from Anywhere
Gone are the days when every meeting was conducted with all employees seated in the company boardroom. Instead, today's modern workspace involves physical, virtual, and hybrid environments. For this reason, it is imperative that internal communication and connectivity is accessible with the right platform and tools.
We recommend adopting a communication platform such as Microsoft Teams to allow for easy team collaboration across several workplace environments.
Microsoft Teams is a virtual hub that enables instant messaging, meetings, calling, file-sharing, app integration, and more. It makes it easy for companies to stay organized and connected with employees regardless if they across the hall or across the globe.
Benefit #3: Rely on Innovation
Today, a smart workplace leverages technology so that it can run with efficiency and collaboration. It is no secret employees are most attracted to businesses that offer a healthy work-life balance. This often begins with promoting a hybrid workplace that allows for flexible schedules and locations.
To support this growing trend in the workforce, organizations need to utilize technology-based solutions such as virtual desktops and wireless networks. Doing so will allow for seamless communication and teamwork whether an employee is in the office or working remotely.
While it is a great idea to offer a hybrid work environment, the right technology is what makes this possible. Having an office that lacks wireless collaboration capabilities is a barrier to creating a new age culture in the workplace.
Benefit #4: Utilize Cloud-Based Workspaces
A cloud-based workspace means applications, tools, or resources are accessible to employees through the Internet from a cloud computing provider's server. It is a more flexible infrastructure compared to legacy systems.
There are many benefits to a cloud-based workspace. First, your office can easily keep up with ever-changing technology. You can easily update any software as new versions are introduced, rather than purchasing an entirely new solution. This assures your employees are constantly using the best and fastest software.
For this reason, cloud-based workspaces lower IT costs. Instead of paying for entirely new systems, your business is only charged for data when it is used. Additionally, a cloud-based system requires less administrative work than legacy systems. Therefore, your IT department will have more time to carry out larger jobs.
Create a Modern Workspace Environment with Compugen Systems
Is your business keeping up with modern workspace trends? We're here to help. To learn more about our modern workspace solutions, grab our guide: