The COVID-19 pandemic has fundamentally changed how businesses and organizations are running. Just two years ago, it was unimaginable to think that most companies could run one whole year with employees working from home, but that's exactly what happened.
"The Cloud" has now become more than just the latest buzzword for companies to cling to – it has become the main driver of core company operations while people worked from home. Even before the pandemic, an IDC study among CIOs showed that as many as 73 percent intended to embrace a 'cloud-first' strategy.
Are you thinking about exploring a Microsoft CSP partner, but you don't know where to start? In this blog, learn more about what a CSP partner can do for you, and the benefits of working with one for your entire organization.
Who is a Cloud Solutions Provider (CSP) Partner?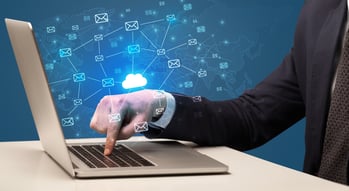 Microsoft's Azure has distinguished itself as a leading public cloud services provider, as more businesses invest in cloud capabilities to power their modern workspaces – secure and scalable operations unlimited by location. While Microsoft may offer cloud service subscriptions directly to organizations, their preferred mode of operation is through the Cloud Solution Provider (CSP) program.
The CSP program allows partners to own the customer lifecycle, from deployment to support. CSP partners can also provide added value to customers, enabling smoother operations, greater scalability, and more robust technical support.
Through the program, partners get Cloud resources directly from Microsoft or from a MS Azure distributor and then manage their entire MS Cloud customer lifecycle. Partners may add dedicated/proprietary in-product features to provision, manage and maintain customer subscriptions. They can also package add-ons, tools, products, or services to better suit their target customers. They are then able to provide these services on subscription basis, whether monthly or annually.
Compugen is one such partner, offering end-to-end managed services through our Accelerate journey.
Significance of a Microsoft CSP Partner Relationship
Microsoft is easily the largest and fastest-growing public clouds on the market. As a pace-setting organization, the process of being a certified Azure CSP partner is rigorous. All partners must attain certain minimums, which include:
Value-added service – the partner must do more than reselling Azure, e.g., offering managed Azure services

Robust support – be ready and able to deal with first-level customer queries/complaints

Managed services – have the technical expertise to offer managed services on MS tools

Simple billing – offer a single and easy-to-follow bill for all Azure and MS-related services
As a result of these stringent requirements, businesses that use CSP partners enjoy a host of benefits, which are listed below.
Benefits of Partnering with a Microsoft CSP Partner
The Microsoft CSP program allows for direct and indirect MS CSP partners. Direct CSP partners are those who have invested in their infrastructure and demonstrated robust support and billing standards. Therefore, these partners can deliver the quality of service MS demands from itself and all its partners.
Direct CSP partners also have a direct line to Microsoft, meaning that they directly receive new developments and can directly escalate any issues to Microsoft. Indirect partners must wait for their MS CSP distributor to pass on new developments, and must escalate any queries through their distributor.
In a nutshell, working with a Microsoft CSP partner allows you to benefit from two great services: the robust public cloud from Microsoft and managed support and service from your CSP partner. Some more benefits include:
Cost savings – you can reduce your expenditure and eliminate redundancy and overlap by getting a single invoice with your preferred solution, whether public, private or hybrid.

Efficiency – having a single provider to coordinate your public, private or hybrid cloud solution and IT services improves response times to crisis but also ensures continuity of IT services.

Productivity – getting tailored and value-added services customized according to your business needs ensures rapid and cost-efficient deployment, reduces the staff's learning curve and improves output throughout the business.

Flexibility – with managed Azure cloud services, you can retain control of the aspects you wish to run in-house and relinquish the administration of aspects that are outside your in-house team's scope or simply to free the in-house team's time.

Technical support – one of the tenets of the CSP partner program is the ability to provide high-level, round-the-clock support. You receive proactive monitoring, maintenance, and management to minimize delays and interruptions because of down-time.
As a result, working with a Microsoft CSP partner guarantees more power for your core processes, applications, and systems, all without the headache of coordinating multiple cloud solutions or providers. The CSP partner is able to deploy the exact solution your organization needs, whether public, private, or a custom hybrid of these two.
Moving to the Public Cloud? Get a Certified Microsoft CSP to Accelerate Your Journey
Compugen is a certified direct Cloud Services Provider, and we have years of experience providing managed Azure services to our clients in various industries. If you wish to learn more about our Microsoft Azure add-ons through the Accelerate Journey, we are happy to answer any questions.
Don't know how to start your business's journey into the cloud? Get in touch today, and let's help you envision the details of what works best for your business.