Data centers are a need for every business in this tech-centric era BUT ... not only do they consume 40% of all operational costs, but they also make scalability an issue. A quicker and more cost-effective alternative to the traditional data centers was introduced in the last decade.
Since its inception in 2007, the concept of containerized data centers has been an increasingly popular option among businesses. In fact, the containerized data center market is valued at $7.52 billion, and is expected to grow to $29.4 billion within the next 05 years!
Thus, if you're a business which runs on data, containerized data centers can be the solution you need. Let's first look at what exactly it is.
What is a Containerized Data Center?
A containerized data center is basically a shipping container designed to accommodate IT equipment. It can be set up to keep any combination of storage devices, servers, generators, and networking gear. Connectivity is usually built into the container so that power, data, and water can be fed from the outside.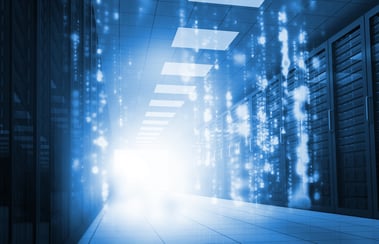 Why Does My Company Need a Data Center?
Free Up Space
By using containerized data centers, you can recoup valuable square footage in your company area and deploy the containers in underused spaces. These containers are designed with water resistance and come with access doors on either end so you can position multiple containers side by side and use them outdoors.
Conserve Energy
Contrary to traditional data centers, containerized data centers are designed for energy efficiency, hence they not only limit the ongoing operational costs but also minimize infrastructure expenses. A containerized data center comes with its own integrated power and cooling system so installation timeframes are also avoided.
Create Additional Capacity
If you already have a data center, containerized data centers are a quick and more efficient way to add additional capacity to your existing network.
Pros and Cons of a Containerized Data Center
Pros
Portability: Containers are portable. You can set them up anywhere, anytime, and move whenever you like.
Scalability: Due to the unique modular design, containerized data centers are easy to scale up as you can add as many containers as per your requirement.
Easy Deployment: They are pretested and prefabricated at the factory and hence can be transported directly for set up and deployment at the company's site.
Durability: These containers are designed waterproof, shock-resistant, and dustproof, which makes them durable and suitable for a variety of environments.

Cost-Effectiveness: Not only do they limit operational costs, but also minimize infrastructure expenses.
Cons
Lack of Efficiency: Despite being able to maintain the whole IT infrastructure, this system lacks the efficiency that comes with traditional data centers. This is mainly because of their limited computing capacity.

Right Location: Finding the right location can also be a hassle as the place you choose to place your containerized data center can disturb the cooling systems as well. Besides, It is challenging and expensive to provide utilities and networks in several areas.

Security Challenges: These stand-alone containers come with low security as they are more prone to break-ins

Specialist Requirement: To set up and assemble a containerized data center, you need a team of technology specialists which means additional team maintenance costs. This particular challenge is difficult for SMBs.
Outsource Data Center Support Services to Compugen
Containerized data centers are a need of every growing business today but hiring a specialist team for this purpose is not feasible for all companies. Small and medium businesses can instead look into outsourcing their data center service management.
By partnering with tech industry experts, like Compugen, SMBs can not only avoid the specialist requirement but also ditch the security challenge because our massive setup provides security for every system. On top of that, location issues are also resolved due to the containerized data center being in one place.
When it comes to containerized data centers, our team ensures that everything from installation to maintenance to optimization, is taken care of.
Thanks to our holistic understanding of technologies across the entire infrastructure, our field engineers and technicians bring on-site expertise to deploy, integrate, and troubleshoot whichever data center you choose.

Book a consultation with our team today.