Hybrid Cloud vs. Multi-Cloud: How to Choose the Right Solution
With a staggering market size of over $397.5 billion in 2022, new cloud strategies have revolutionalized the landscape of data all around the globe. Two of the most popular cloud strategies among businesses are multi-cloud and hybrid cloud strategies. As of now, 72% of enterprises are preferring the hybrid-first strategy which comes as a surprise as it is much more expensive as compared to the multi-cloud option.
In this article, we will discuss exactly that and the right solution for YOUR business. Without further ado, let's begin.
Hybrid Cloud Vs. Multi-Cloud: What are They?
Although there is some overlap between both terms, there is a slight difference between hybrid cloud and multi-cloud. Multi-cloud and hybrid cloud both refer to cloud deployments that involve the integration of more than one cloud — they differ when it comes to the cloud infrastructure they work upon.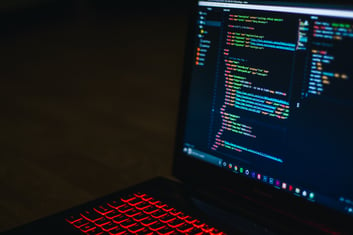 Let me explain: Multi-cloud strategy supports the use of multiple cloud service providers - such as Google Cloud, Microsoft Azure, or Amazon Web Services, together - instead of relying on one cloud service provider. Hybrid cloud strategy, on the other hand, refers to mixed storage, services, and computing environments that are based on on-premise as well as cloud service infrastructures.
While multi-cloud strategy uses multiple clouds, hybrid cloud creates a solution that uses different types of hosting infrastructures intermingled together.
Of course, both strategies have their own pros and cons
Pros and Cons: Multi-Cloud

Pros:

Allows businesses to quickly innovate and evolve as they are not restricted by the regulations of an individual cloud provider.

Mitigates risks involving geographic locations.

Helps your business avoid vendor lock-in.
Cons:
Comes with data security risks as your data now becomes more prone to leakage.

Poses a strong management overload challenge as it is harder to monitor multiple environments at the same time.
Pros and Cons: Hybrid Cloud
Pros:
Comes with greater flexibility and better speed.

Offers increased mobility.

Has high-level data security.
Cons:
Difficult to Implement

Includes complex data integration due to blended services

Is much more expensive than multi-clouds. From the cost of equipment to installations and up to maintenance of servers, overall in-house expenses of hybrid cloud make companies pay through the nose.
Which One Suits My Business Needs Best? Hybrid Cloud vs. Multi-Cloud
To decide what suits your business needs best — multi-cloud strategy vs. hybrid cloud — consider the following factors:
Regulatory Concerns:
Suppose your business holds any industry-specific requirements for data storage and retention. In that case, there is a high chance that all cloud providers may not be fulfilling the requirements, so discuss with the provider how exactly they plan on meeting these requirements.
Infrastructural Security:
Be it hybrid or multi-cloud, security in both cloud environments is heavily reliant on the underlying architecture of the system. Since public clouds are involved in both cases, discuss the security protocols with your vendor beforehand. It is important that your selected vendor takes up responsibility of safeguarding the data from external threats.
Geographical Considerations:
If your business has offices in multiple locations, you also have to look into data regulations. Before making the final decision, check if your selected provider has data centers in multiple countries or not.
Cloud Migration:
Moving your organization's entire data onto the cloud is a complex and exhaustive task. So before you start the migration task, check if your provider offers setting and migrating resources or you have to put the burden on your own team.
Cost Efficiency:
Last but not least, you need to figure out which solution is more cost-efficient for you. Multi-cloud strategy currently takes the win when it comes to cost management. However, as we saw, hybrid cloud have a lot of benefits for businesses. So, then, it becomes more about the value for the budget that you invest.
If you want to go for a hybrid cloud solution, but are worried about the cost, there is one solution that can offer you all hybrid cloud benefits along with cost efficiency — DaaS. DaaS is witnessing a significant surge in demand due to the subscription-based models being offered. Thus, business can avail reduced costs and increased flexibility by converting the high cost of acquiring new technology from a capital expenditure to an operating expense. Let's see how you can manage your cloud operations through Daas.
Manage Your Hybrid Cloud Environment WITHOUT the Heavy Expenses - Introducing DaaS
You can access DaaS through IT service providers, like Compugen that offer pay-as-you-grow models. In this model, your business is delivered all computing resources over the internet, which are then managed by a third party so that data implementation issues are resolved.
On top of that, Compugen provides your business cost savings by providing physical hardware, networking, and storage devices on a subscription basis. You can scale the applications and capacity up or down as per your requirements. Hence, your business can enjoy all the perks of the hybrid cloud strategy while skipping all the challenges.
Wrapping It Up
With the increase in consumer demand, it is no surprise that enterprises are increasingly adopting better cloud strategies that match their required functions better. Be it multi-cloud or hybrid cloud; both cloud strategies come with their strengths and weaknesses. Hence, the best way to choose the right cloud strategy is to assess your business's existing workloads, storage demands, networks, and databases and map them down.
To learn which strategy suits your business best, contact us today!