Around 78% of enterprises are currently operating on a hybrid or multi-cloud environment — and this percentage is expected to grow further!
Thus, cloud storage is the preferred way of storing data. However, when it comes to the cloud, there are other factors that you need to be concerned about: Cost optimization, software flexibility, data security, and, most importantly, reliability. And as you can guess, doing this on a hybrid cloud environment, especially in-house, is no easy task.
That's exactly what Azure management services help you achieve. Azure management offers you a balanced mix of all the factors mentioned above. Let's see how.
Azure Management and Hybrid Cloud Environment
Many tools such as OpenStack, CloudStack, and Manage IQ offer hybrid cloud management services. However, Microsoft Azure holds more than 22% of the share in the hybrid cloud market. Built by Microsoft's Cloud platform, Microsoft Azure directly allows you to build, deploy and manage services and applications within its interface. Like most other cloud providers, Microsoft Azure is based on SaaS, PaaS, and IaaS. However, the question here is why is it so popular, and how can you use Azure service for cloud management? Let's discuss: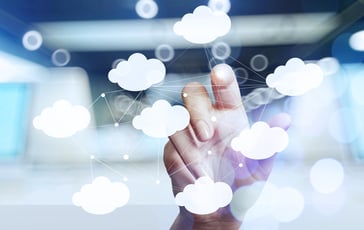 Azure Management - The Right Choice for Your Hybrid Cloud Environment
Microsoft Azure bundles with Azure Stack, Visual Studio, and Azure DevOps that can be used to build and deploy a consistent application experience anywhere on your cloud. You can also use Azure Arc to seamlessly migrate, manage, and analyze data across your digital estate.
Thus, with Azure management, your enterprise can enable remote work and maximize existing on-premise investments. Azure provides a secure, holistic approach to innovation anywhere across your hybrid cloud environments.
Additionally, the Microsoft Defender and Microsoft Sentinel, which come as part of the Microsoft Azure Suite, are best for offering a unified hybrid security management solution. Azure also has a variety of other tools such as ExpressRoute, Virtual WAN, and VPN Gateway that all serve the role of an extension to your existing enterprise network on a global scale.
Popular Azure Features For Businesses
App Migration: With Azure, you can migrate the applications to a public cloud safely and securely. The Azure Hybrid Benefit Program ensures that existing licenses of your software are also transferred.

Hybrid Apps On-Premise: Azure allows you to use the hybrid cloud in-house as well through Azure Stack HCI. So, you can run apps in a virtual environment and enjoy all cloud benefits while remaining compliant and connected.

Secure Single Sign-On: Azure also enables enterprises to work with secure single sign-on across public, private, and on-premise environments.

Disaster recovery: Azure ensures your data is safe even when there are unfavorable circumstances like cyberattacks. Microsoft's security is due to it's geographically distributed architecture.
How to Manage your Hybrid Cloud Environment with Azure
Azure management, despite being one of the best hybrid cloud management options, can often be a hassle for enterprises because it requires dedicated in-house technical expertise, as well as hardware equipment and maintenance costs to make it work.
Managing your hybrid cloud environment requires you to understand 'what' is being managed. You need to understand what applications are working and how they interact with end-users. Furthermore, you need to have an understanding of security and governance requirements. On top of that, you need to have in-depth knowledge of your native APIs and resources. That may be a feasible solution for large organizations, but SMBs usually do not have the resources to spare.
For this exact reason, most small and business businesses. opt to outsource their Azure managed services. Azure helps you be cost-effective by leveraging Microsoft's huge infrastructure instead of managing your own hardware. With advanced disaster recovery mechanisms and the flexibility to add new services at the click of a button, Microsoft Azure is the perfect solution for your hybrid cloud needs.
The Perfect Fit: Azure Managed Services with Compugen
Partnering with Compugen is a sure-shot way to offload the technical burden from your shoulders and focus on the innovation side of your business.
With over 35 years of experience in tech, our Azure team of professionals are ready to help you industry-leading cloud migration, optimization, and management services. Let us manage your Azure instance and keep your business ahead of the curve. Schedule a consultation with Team Compugen!