Putting the products that employees use into their hands quickly and easily
What are IT Vending Machines?
An IT vending machine is a vending machine installed in offices to provide IT employees with instant access to computer hardware. They are equipped with a badge reader that allows an employee to scan their badge to provide authentication and track the asset.
They are not new by any means, but they have become even more popular as a result of the pandemic. Check out this video of a Facebook employee who appeared on  CNN Business in July of 2011 to explain more about IT Vending machines. He stated that the point is to achieve "frictionless IT." These IT machines included everything from power cords to screen wipes. They guarantee that the employee is only a badge scan away from getting whatever they need to do their job effectively. He stated that the point is to achieve "frictionless IT." These IT machines included everything from power cords to screen wipes.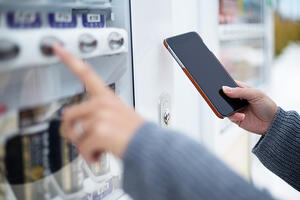 Centralizing IT for Added Efficiencies
IT vending machines offer a convenient central location for computer hardware for IT teams so that IT professionals can make personalized choices based on diverse preferences. This single interface expedites and improves the decision-making process and eliminates the hassle of filing paperwork, waiting to receive IT equipment they needed days ago, or being forced to choose hardware they find cumbersome. 
IT vending machines are easy to use, low-touch, and save time in dispensing, tracking, and monitoring IT equipment, thus driving higher productivity levels. A week-long process to get new equipment can now be supplied in minutes leading to associated improvement on returns on investments.
Another reason IT vending machines are ideal for IT departments is their capacity to save on costs. Employees have access to the machine to acquire whatever gear they need to do their job. It doesn't require any further paperwork, handling, or the time and hires of delivery personnel. Before, the process was tedious and the lapse in time burned up savings. 
Now, with the IT vending machine presence, costs are applied smartly, to maintain a machine that has the long-term value of convenience and direct-to-user value. 
How they Reduce the Spread of COVID-19 
IT vending machines also help limit the contact between different departments in your business which can be effective in slowing the spread of illness and infectious diseases. This is due to the touchless screen badge scanning and the fact that packages are dispensed directly to the IT employee requesting them. 
Determining Your Office Needs
Determining whether your office's unique needs require vending machines is a process. Tech HQ magazine laid out the steps. Is your IT department large enough to justify purchasing a vending machine? 
To acquire a vending machine, you will need to make a B2B supplier purchase. Common IT vending machines are produced by Logitech, IVM, and so on. It is important to research the efficacy of the machine itself. Choosing an IT vending machine for your office will be as much about its affordability as functionality.
Establishing a Smart Office 
Adding smart tech vending machines to your office space is one step closer to modernizing an efficient workspace for your employees. If planned and scaled, the IT vending machine is a long-term cost mitigation feature that will improve the work floor quality of employees. Machines function with smart tech features, and they can likewise stock smart hardware and IOT devices, such as wearables. This puts innovative gear directly in the hands of your workers when and where they need it.
Accessibility of Hardware
The IT vending machine streamlines the process of making tech available to the workroom floor and streamlines the process of the company's making purchases. Stocking a vending machine and allowing the staff to select from it makes the process of ordering and reordering stock more effective. It streamlines the process between the order form, the delivery, and the restocking of hardware because the options in the machine are various and the machine is restocked of all options when it is depleted. 
One-Stop Solution
IT vending machines offer a one-stop solution to IT asset management needs. Employers and employees enjoy automated solutions that help remove barriers while improving productivity and employee satisfaction.
Learn more about Modern Procurement & Strategic Sourcing
Choosing the right solution from the right supplier is an art as much as a science. While cost is an important factor to consider, it's not the only one. Evaluating for quality, value, collaboration, and flexibility are equally vital to establishing the right partnership. CSI will guide you through this entire process from RFP to PO.