Digital transformation is now table stakes. But if you're implementing different solutions without considering how they complement each other, you may miss out on what comes next: Technology convergence.
By connecting the dots, organizations can tap into the synergy created by new technologies to achieve results where the whole is great than the sum of its parts. While there's no one-size-fits-all combination of solutions, there are a few components most companies should have.
Let's examine the four essential building blocks of technology convergence — cloud computing, data analytics, cyber resilience, and the Internet of Things (IoT) — and why they're important. Plus, see how you can create a seamless fabric of IT infrastructure to connect the dots.
The Building Blocks of Technology C
onvergence
Here's an overview of these four essential technologies and how they can benefit businesses in various ways:
Cloud Computing + the Hybrid Cloud
Cloud computing is pivotal in shaping the modern digital landscape and is the foundation of technology convergence. Among the various cloud deployment models, many organizations prefer a hybrid approach to balance business, security, compliance, and budget requirements.
A hybrid cloud allows you to handle dynamic workloads with fluctuating resource demands on the public cloud while managing sensitive data with a private cloud to enhance governance and compliance. You can leverage the public cloud's pay-as-you-go model to turn CapEx into OpEx and pay only for the resources you consume to optimize your IT spending.
A hybrid architecture distributes workloads across multiple cloud environments to help reduce the risk of a single point of failure and improve business resilience. Additionally, integrating on-premise and cloud infrastructure allows you to bridge legacy and modern systems for a seamless transition to the cloud.
Source: Flexera
87% of enterprises have defined a hybrid cloud strategy.
Source:IDG
55% of companies use at least two public clouds plus their own data centers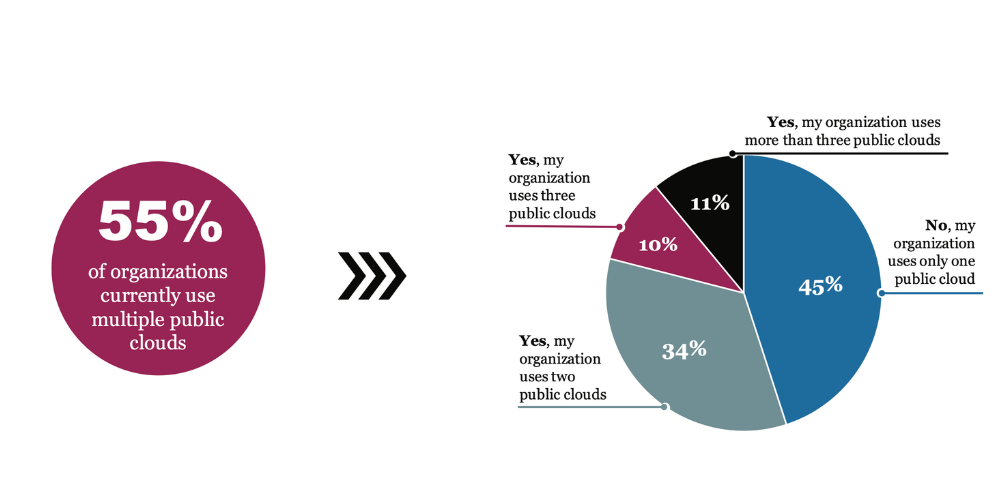 Source: NetApp
85% of organizations include workload placement flexibility in their top five technology priorities.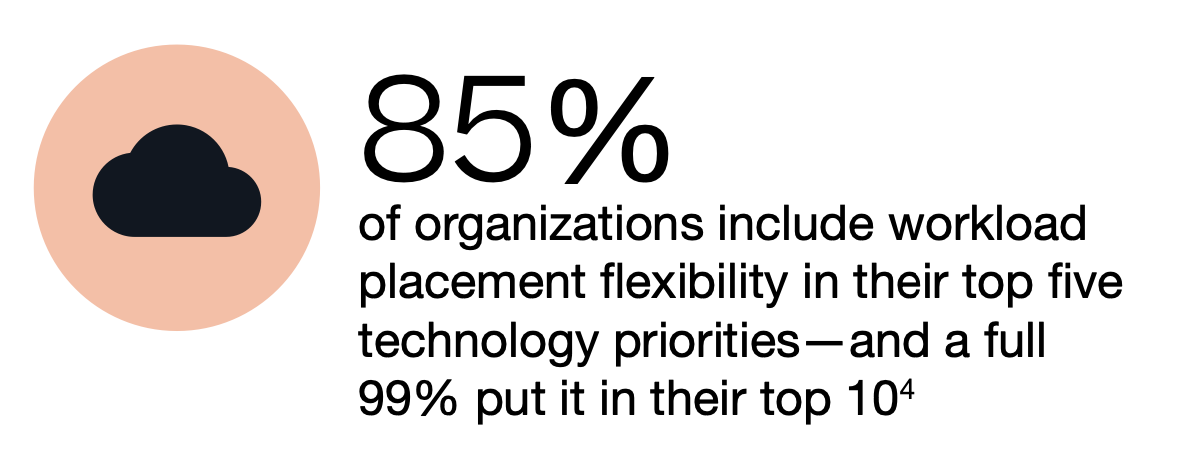 Big Data + the Data Revolution
Cloud computing has made storing and handling vast amounts of data possible for organizations of any size. The advent of big data — the massive volumes of structured and unstructured data generated from different sources, such as social media, IoT devices, sensors, transaction records, etc. has opened up new opportunities for various sectors.
Healthcare providers can analyze large datasets of patient records, medical images, etc., to identify patterns, facilitate evidence-based medicine, and customize patient care to improve treatment outcomes. Retailers can learn about customer preferences, behaviors, and buying trends to deliver a personalized and converting shopping experience.
The finance and banking vertical can use big data to flag potential fraud, detect unusual transactions, enhance customer profiling, assess risk, and improve customer service. Meanwhile, the manufacturing sector is ushering in Industry 4.0 by revolutionizing production processes and supply chain management with real-time data from IoT devices.
Source: IDC
40% to 50%: Compound annual data growth rate.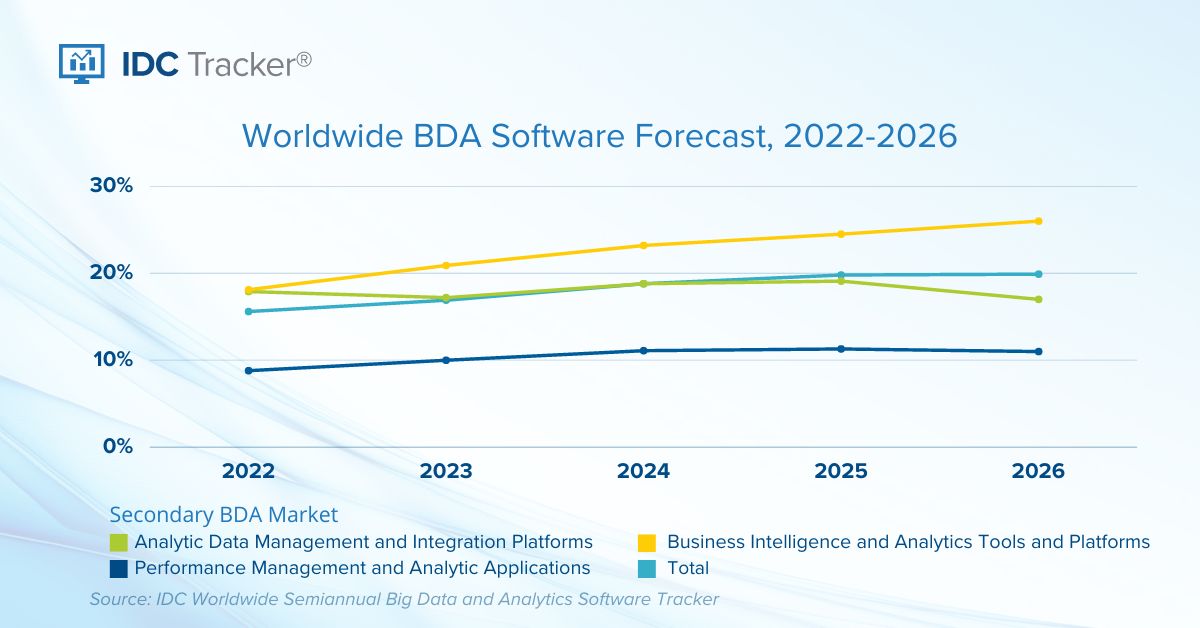 Cyber Resilience + Data Protection
The extensive use of the cloud, data analytics, and IoT devices has increased the risks of cyber-attacks and data breaches. Organizations must implement proactive measures to protect their sensitive data and critical assets. Cyber resilience has become a critical focus to help businesses withstand, respond to, and recover from cyber incidents.
Implement a zero-trust architecture to support strict access controls, authentication, and authorization policies. Also, use a next-generation firewall (NGFW) with capabilities like intrusion prevention systems (IPS), deep packet inspection, application awareness, and threat intelligence to block malware, ransomware, and zero-day exploits.
Endpoint security and IoT protection are paramount in today's distributed environment to protect devices from malware, unauthorized access, and data exfiltration. Additionally, you can leverage cloud-based, AI-driven security solutions to analyze large volumes of data, identify patterns indicative of malicious activity, and provide rapid incident responses.
Source: Sophos
$1.85 million: The average cost of recovering from a ransomware attack.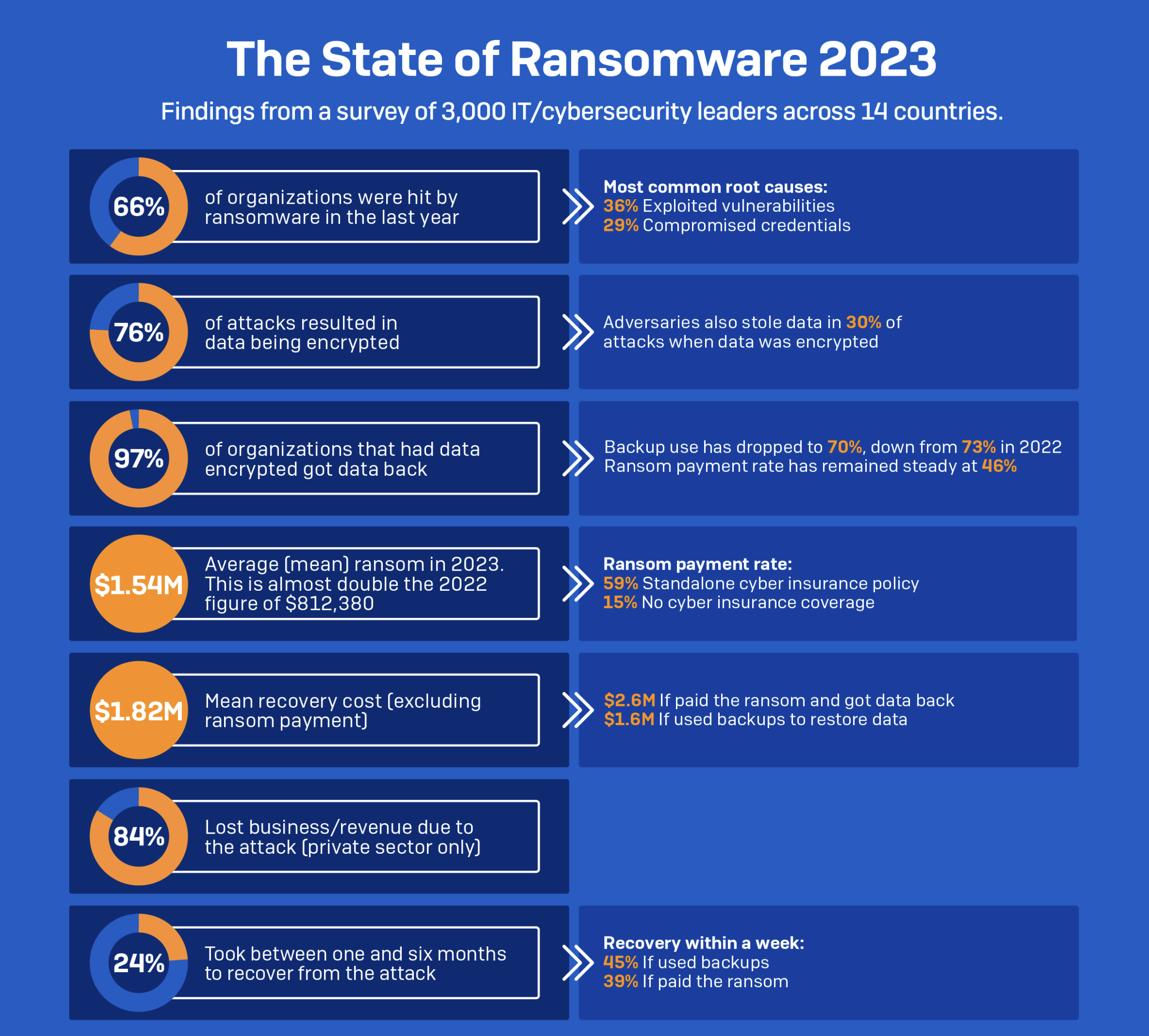 Source: Coveware
16 days: Average downtime after a ransomware attack.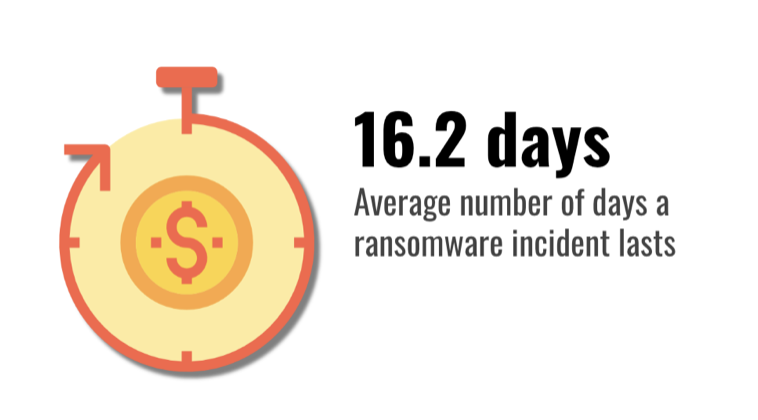 The Rise of IoT Devices
IoT refers to the network of interconnected smart devices, sensors, and objects that collects and exchanges data, enabling seamless communication and automation. They offer pervasive connectivity while unlocking new possibilities for efficiency, productivity, and innovation. In fact, Statista projects that there will be 29 billion IoT devices in 2030.
Healthcare providers can use IoT devices like connected medical wearables and sensors for remote patient monitoring and telemedicine to reduce hospital visits and improve patient outcomes. Retailers can leverage IoT technologies to support logistics, supply chain management, and predictive maintenance to improve operational cost-efficiency.
Meanwhile, the Industrial Internet of Things (IIoT) will play a pivotal role in driving the digitization and automation of industrial processes with sensors embedded in manufacturing equipment. They can collect real-time performance, maintenance, and energy consumption data to streamline operations and reduce costs.
Connecting the Dots with the Right Technology and Transformation Enabler
Finding the right technology provider is often half the battle when implementing these building blocks to support business operations. That's why we partner with NetApp to bring best-of-breed solutions to our clients.
For example, NetApp's hybrid cloud solution complements our hybrid IT services to combine on-prem and cloud infrastructures to build a solid foundation. We can also help you leverage their data management portfolio to simplify and automate IT operations while tapping into the power of big data.
NetApp's Palo Alto Network, a portfolio of cyber-resilience solutions, aligns with our layered approach to security resilience to help you support governance and compliance, a zero-trust architecture, and ransomware protection without hampering creativity and innovation.
Ready to combine cutting-edge solutions with an ally that takes the time to understand your goals and turn your vision into reality with the right technology? Get in touch to see how we can help you take digital transformation to the next level and ride the wave of technology convergence.