A reprise of the Article published on CIO Review.
Modern technology evolves at blinding speed. Unless there is a dedicated team of in-house IT professionals staying on top of each new development, organizations often miss out on realizing the value gained by leveraging the latest productivity enhancements in the industry. Microsoft Solution Providers (MSPs) play an instrumental role in helping customers leverage these technologies while keeping their employees focused on their core competencies. Aligning new technologies with their business goals is how companies ensure they can focus on their desired outcomes. Selecting a partner that understands how to align technology to business goals and brand purpose is critical.
Companies like Compugen Systems Inc. are moving the needle. Compugen looks to cultivate new opportunities through technology-based service to help its customers turn what was once unreachable into achievable. They believe that organizations must deploy solutions quickly to adapt to rapidly changing markets where consumers have increasingly demanding expectations. Harnessing the potential of Microsoft's cloud solutions is one-way modern companies can gain this agility and react to changes in their markets and customer desires as they happen. Compugen has grounded its Modern Workspace practice with its strong partnership with Microsoft to help clients digitalize their tools and allow them to migrate their work processes to the cloud. This process is more agile and scalable, enabling employees to work anywhere, anytime, without the slightest break in efficiency. As a Microsoft gold partner, Compugen focuses on leveraging the power of Microsoft to drive growth for customers and help them transform in significant ways to achieve their goals.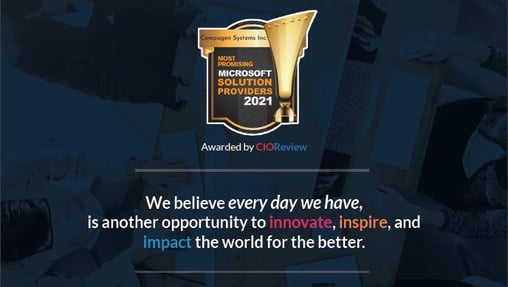 With a mission to redefine the customer experience, Compugen combines creative and curious minds to transform traditional customer service into uniquely crafted human experiences. This passion translates to their core values. With Service as their Craft, Compugen recognizes that the technology is only one competent to the success of your business. Ensuring the technology works for you, with you, and enables you to do great things; is what the CSI team focuses on to redefine their customer's experience. Adoption, engagement, change management, and even people and culture impact CSI clients and their employees as technology shifts, grows, and changes in the marketplace. With Microsoft leading the shift to the Modern Workspace, CSI is tightly aligned with Microsoft to ensure their customers have the tools they need, and their entire organization is using them and thriving. The company focuses on improving efficiency and collaboration across the modern workspace for front-line employees while delivering agility and scalability of back-end systems in the data center to decrease their customers' time to market significantly.
By focusing on collaboration, automation, security, and governance surrounding Microsoft technologies, Compugen extends its support to all aspects of a customer's digital transformation journey, using a holistic approach to modernization while securing their clients' digital tools against cyber incursions.
The Genesis
"Curiosity inspires us. We are a team of knowledge seekers who ask the tough questions, push traditional boundaries, and challenge the status quo by creatively fusing technology with vision and service."
- Jason Fris, Director, Software Solutions -Compugen Systems Inc
Compugen Systems Inc, an affiliate of Compugen Inc, was incorporated in Houston, Texas, in 2015 to serve the US market as a born-in-the-cloud company. CSI immediately became a Microsoft Cloud Solutions Partner (Microsoft CSP), providing offers for managed Modern Workplace, Hybrid IT, Networking, and Security solutions, all utilizing the Microsoft technology stack. This differentiation in capability and service delivery makes Compugen Systems Inc the ideal recipient of this award.
At Compugen, They Dream Big
Compugen's mission is to redefine the customer experience. Whether this is through helping their customers work more collaboratively or modernizing their customers' engagement tools to provide better access to their communities, creating a positive, rippling impact on the world around them is their Vision, and they live it each and every day.
Terry Mirza, President of CSI, notes, "Compugen Systems Inc's history is underscored with an unwavering mission to social responsibility. We understand that behind every process and policy, there's a person and a purpose. We believe in the life-altering power of human ingenuity, and together, we use technology to drive change in a way that creates a positive, rippling impact on the world around us."
Work has changed forever, but IT consumers' high expectations have not. Through their work with Microsoft, Compugen is driving change to improve employee satisfaction, organizational saving, and agility for their customers to address new markets faster, better, and more efficiently. Whether it is modernizing hospitals to provide better care for their patients or enabling schools to deliver unique, innovative ways of learning for their students, Compugen is deeply committed to improving people's lives through technology.
Andrew Packard at CSI reaffirms their company values and mission; "We believe that every day we have, is another opportunity to innovate, inspire, and impact the world for the better. This belief is not just something that we say; it is who we are and what we do."
Service-lead and human-centric, Compugen recently helped a financial institution with challenges getting the correct information to their employees at the right time to address the more demanding expectations of their clients. The aging systems were challenged to provide more than simple transactional details to the Wealth Management professionals, resulting in slow, impersonal results for their customers. By implementing a modernized document management system based on Microsoft technologies, Compugen helped get information into their front-line workers' hands. This technological advancement allowed them to provide a more personalized, insightful service to their clients; this is a testament to their focus on redefining the customer experience, not just their customers, but their customer's customers.
And Their Communities
In connection with a vision to eliminate technology waste and build sustainability in the technology space, CSI promotes its Green4Good and CarbonBank offers, specializing in recycling and disposing of IT assets ethically. By helping customers move to the cloud with Microsoft, Compugen is enabling its clients to not only reduce their carbon footprint through the disposition of legacy hardware, but channel recycling proceeds back into community charities and programs to improve the lives of the people around them.

Through a combination of community involvement, employee enablement, and infrastructure modernization with newer Microsoft technologies, Compugen embraces a service-led culture, transforming customer service into a uniquely crafted human experience.
"We have spent much time reflecting on how Compugen will be remembered; who we are, what we stand for, and what our legacy will be. Through the solutions we cultivate, and with the people and practices we employ, we will have a positive, rippling impact on the world around us, each and every day."
- Terry Mirza, President, Compugen Systems Inc.